Physical Education
Queens' Federation: Physical Education Subject Statement
Intent
At the Queens' Federation we aim to foster 'Learning for Life.'
We will provide a rich, relevant and inspirational curriculum that promotes a lifelong love of learning and equips our pupils with the key knowledge and understanding, skills and personal qualities that they will need to thrive in a rapidly changing world. Our curriculum is designed to be relevant to our children and is linked to the context of our school and the local community.
Our Physical Education curriculum is designed to be progressive, developing pupil's knowledge, skills, understanding and physical competence. It is our intent that all pupils will enjoy being physically active and build positive attitudes and resilience when involved in physical activities. The curriculum promotes the importance of a healthy lifestyle and a balanced diet and ensures that pupils are aware of the link between physical activity and good mental health. The curriculum also teaches pupils how to cooperate and collaborate with others as part of a team, understand fairness and demonstrate good sporting behaviour as an individual participant, a team member and a spectator.
Implementation
Our curriculum covers a broad range of physical activities. Key knowledge and skills are mapped out across each year group. Unit planning and delivery of the curriculum is supported through the use of the getset4pe Scheme of Work for Physical Education. This ensures that pupils develop their knowledge of games, dance and gymnastics and athletics (across KS1 and KS2) and (in KS2) outdoor and adventurous activity and swimming progressively. The scheme of work also ensures that children in early years are given the opportunity to develop their fundamental skills in a fun and progressive way. The skills in these areas are developed systematically, building on previous learning and preparing for subsequent years. Pupils receive two hours of fun and active PE lessons every week.
In addition to Physical Education in curriculum time, we strive to provide opportunities for pupils to access extra-curricular physical activity through a wide range of sporting and active clubs. We also encourage active playtimes through the use of sports and playground leaders. All classes participate in the Daily Mile. Festivals and competitions ensure all of our children have the opportunity to take part in a range of sports both in and outside of school at a competitive or non-competitive level.
We view assessment as a holistic process, which takes place in every lesson through observation of, in questioning and in conversation with pupils and in the production of lesson outcomes. Physical Education assessment criteria set out the key knowledge and skills that a pupil should achieve at the end of each unit of work.
Impact
At the Queens' Federation, pupils will develop a keen interest in Physical Education. They will be able to combine physical skills with fluency and apply them consistently to a broad range of physical activities and sports. Our pupils will understand the importance of and take responsibility for leading a healthy and active life style. They will grow up to live happy and healthy lives utilising the skills and knowledge acquired through Physical Education. Pupil outcomes evidence a broad and balanced physical education curriculum and at the end of each year, pupils achieve age related expectations and retain the knowledge and skills learnt from each unit of work.
Yearly Overview
Autumn
Spring
Summer
EYFS
Introduction to PE: 'Starting and Stopping'. Fundamentals: 'Moving in different ways and staying still'.

Dance: Frozen Dance. Ball Skills

Gymnastics: Stretching, bending and curling. Putting weight on different parts of the body.

Games Unit: Team Games
Y1
Games Unit 'Throwing and Catching'. Dance Unit 'Dot , Wiggle and Dash'.
Gymnastics Unit 'Travel and Stop'.
Games Unit 'Running and Jumping', 'Kicking and Striking'.
Y2
Gymnastics: Points of Contact. Dance: Magical Friendship. Games: Fundamentals 1
Games: Fundamentals 1 & 2. Dance: Great Fire of London. Gymnastics: Tall and Wall.
Games: Fundamentals 3. Games: Sports Event. Swimming.
Y3
Striking and Fielding. Gymnastics. Interpretive Indian dance.
Tag Rugby. Gymnastics.
Pirate Dance. Sports Leadership. Athletics. Swimming.
Y4
Invasion Games (Football, Tag Rugby). Dance: Lindy Hop. Gymnastics.
Dance: Time Travel. Football.
Athletics. Rounders. Swimming.
Y5
Gymnastics: Balance. Invasion Games: Rugby. Dance. Football. Invasion Games: Football.
Gymnastics: Partner Work. Invasion Games: Basketball, Netball.
Athletics. Striking and Fielding. Games: Cricket. Dance Morning. African Rhythm and Beats. Swimming. Athletics.
Y6
Invasion Games: Hockey. Gymnastics: Symmetry and Asymmetry. Fitness.
Invasion Games: Tag Rugby. Dance.
Athletics. Cricket. Swimming
GOVERNMENT FUNDING
Last year, the government increased the grant for schools to use to ensure all children are provided with as many experiences as possible. We strongly believe children should be exposed to these experiences in order to make their own decisions about what sports they enjoy and are talented at. This grant has been confirmed for the academic year of 2022-23, therefore allowing us to continue to develop the subject and progression for all our children.
The grant is used to provide clubs that the children can participate in; before school, at lunch time and afterschool. Ensuring that all children can access a range of clubs with additional funding as required. Competition for all ability groups has been increased since the funding has been available. We are also able to enter additional festivals and events that targeted children can attend.
COMPETITION AND FESTIVALS
We have fortunate that we have the luxury of being a Federation with Queen Emma Primary School and use this to offer further competition and festivals for groups and classes.
Competition has increased throughout the years and we are proud of the successes that we are continuing to make each year. This year has seen children from Queen Edith proudly represent the school in events such as, tag rugby, cross country, dodgeball and table tennis. Queen Edith received the winner's trophy for the dodgeball competition.
SWIMMING
Learning to swim is an important life skill. We organise lessons for all children between year 2 and year 6. These take place during school time and are a part of the school curriculum.
Information For Parents
PE lessons are included in the curriculum and the children actively participate in 2 hours per week of PE lessons. During some PE lessons we have secured additional coaching sessions taught by specialist coaches. The children have previously thoroughly enjoyed these sessions, as well as, accessed quality learning about a range of different sports.
A full PE kit must be worn for all PE activities. Every child requires a PE kit to be left at school until the end of each half term. Please ensure that your child's kit is clearly labelled with their name.
All jewellery should be removed before school on PE days. Staff are not able to remove or help to remove earrings. If your child does not remove them before school please ensure that they can do this themselves.
Examples of Learning
Nursery
Nursery children enjoy themed PE sessions and daily time in our wonderful garden area, where they can climb, use balls and hoops, balance, dig, make marks with chalks and wave flags.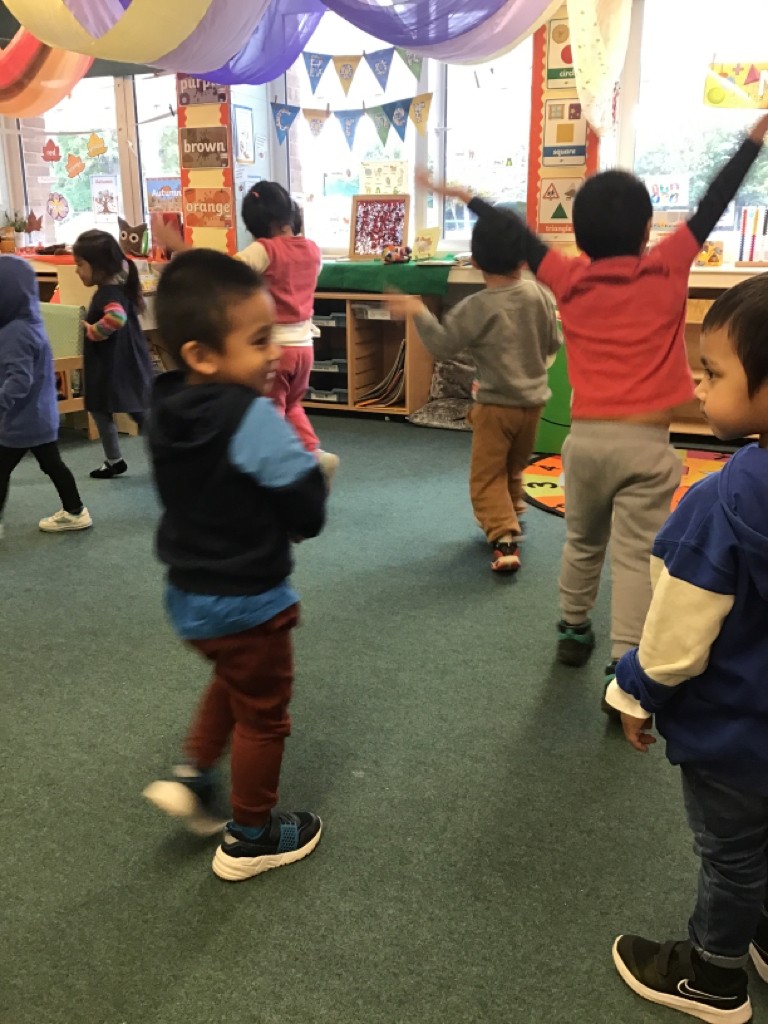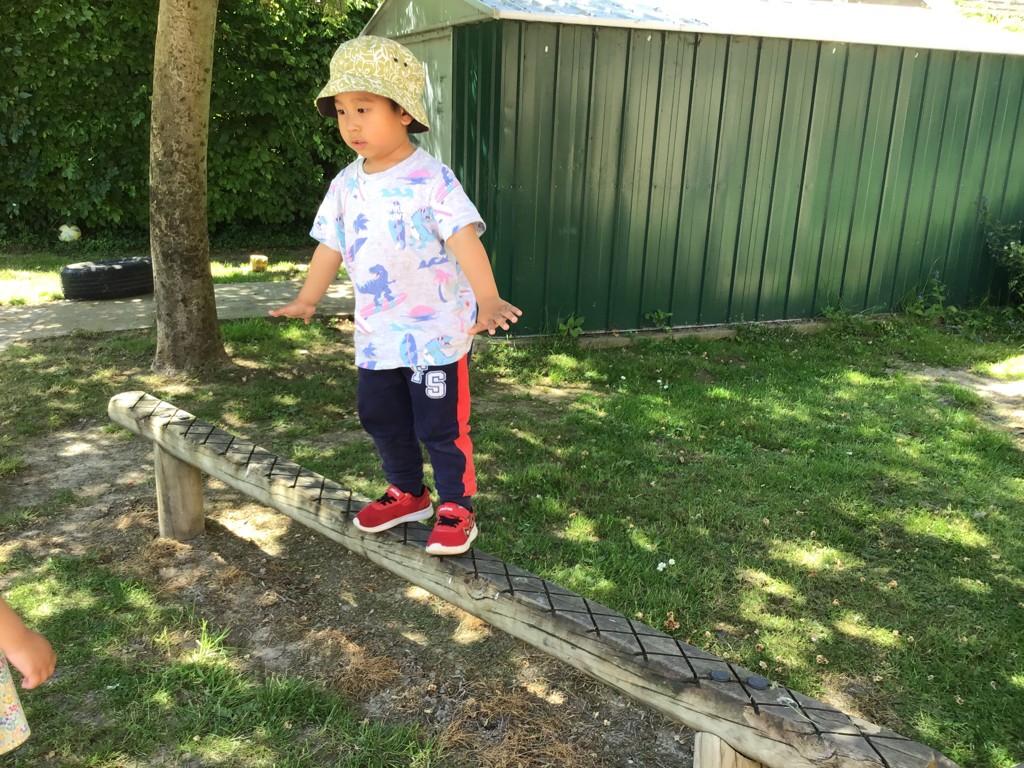 Year 6
14th -16th June Year 6 Residential trip to Grafham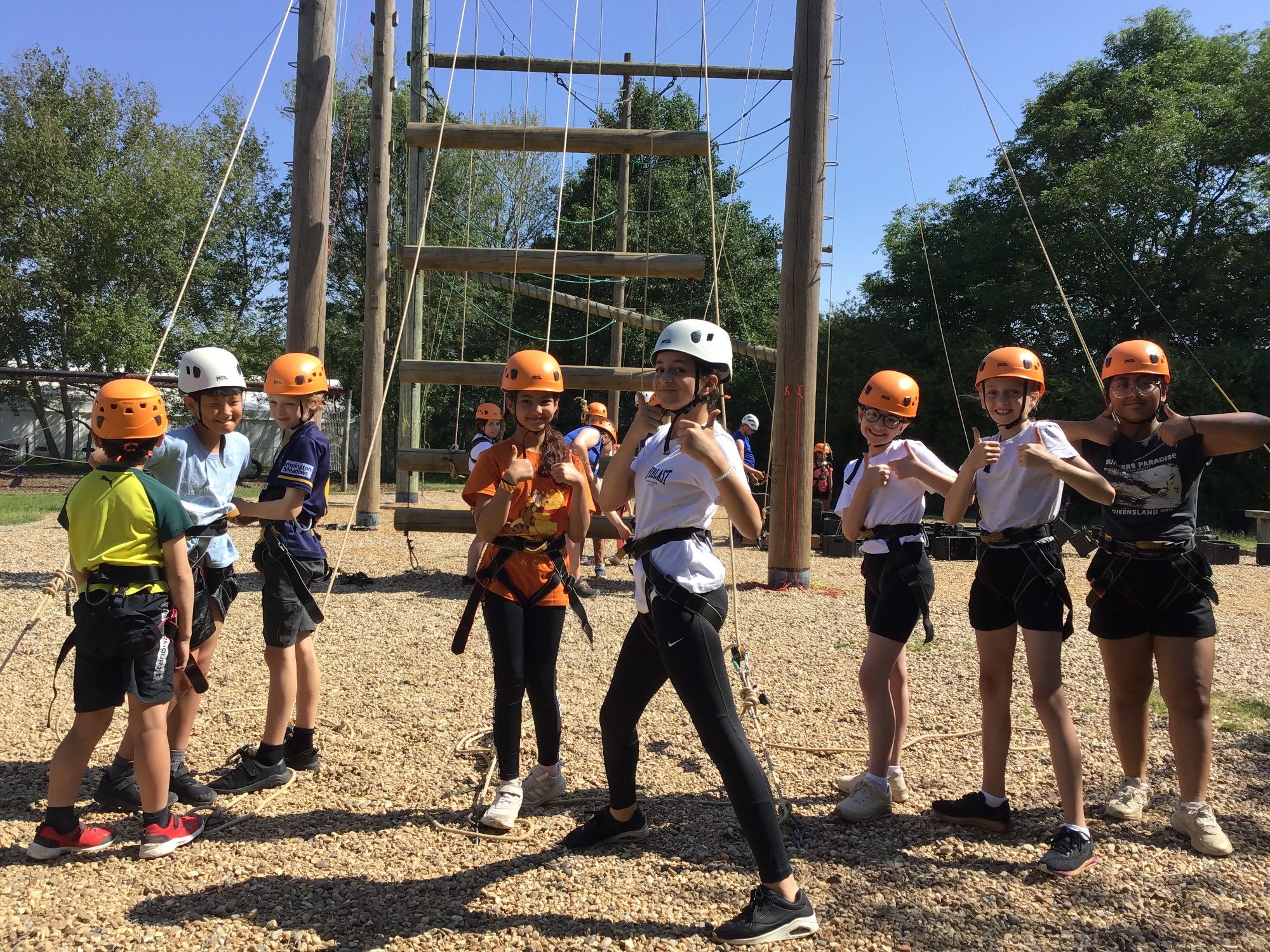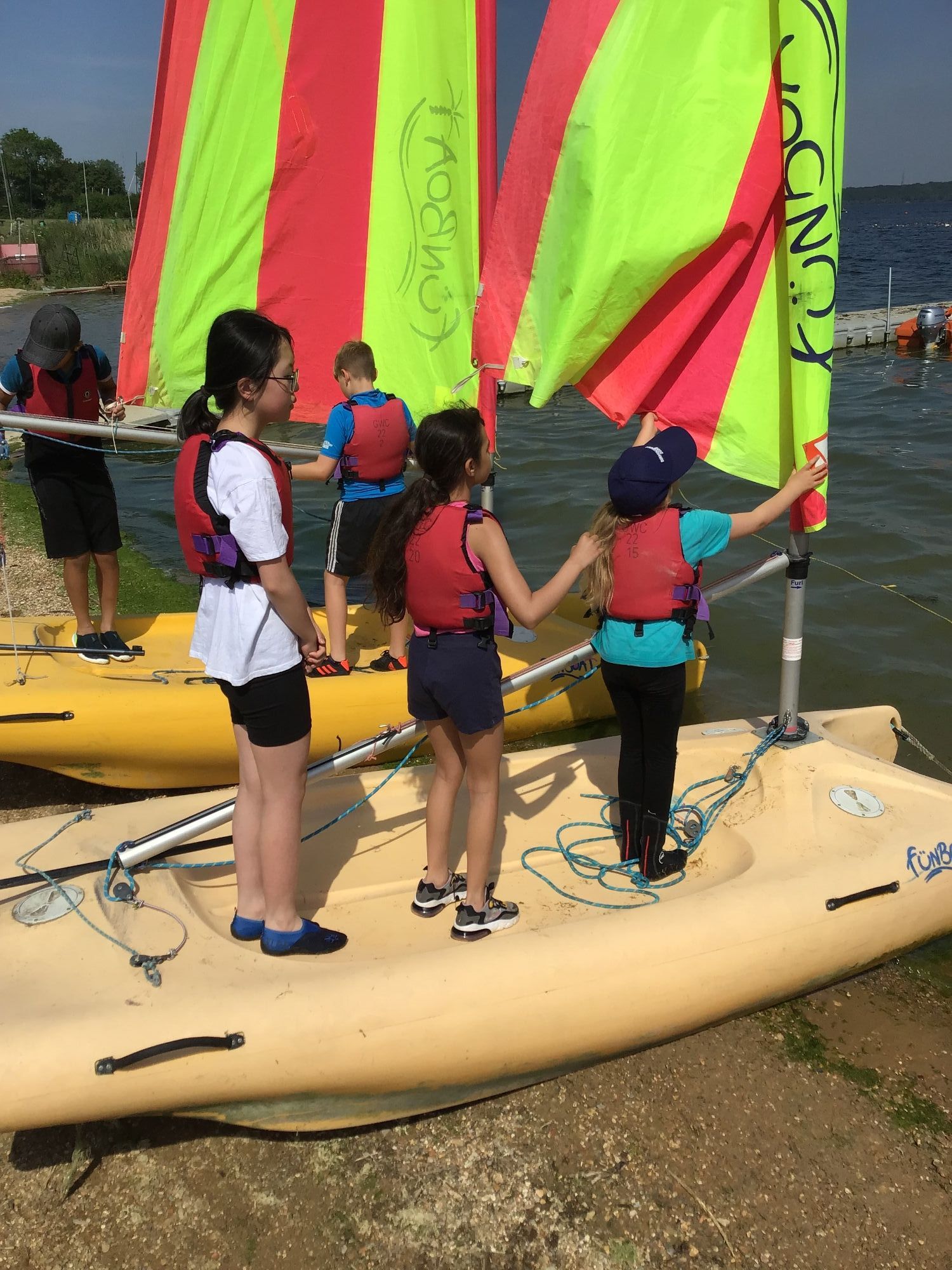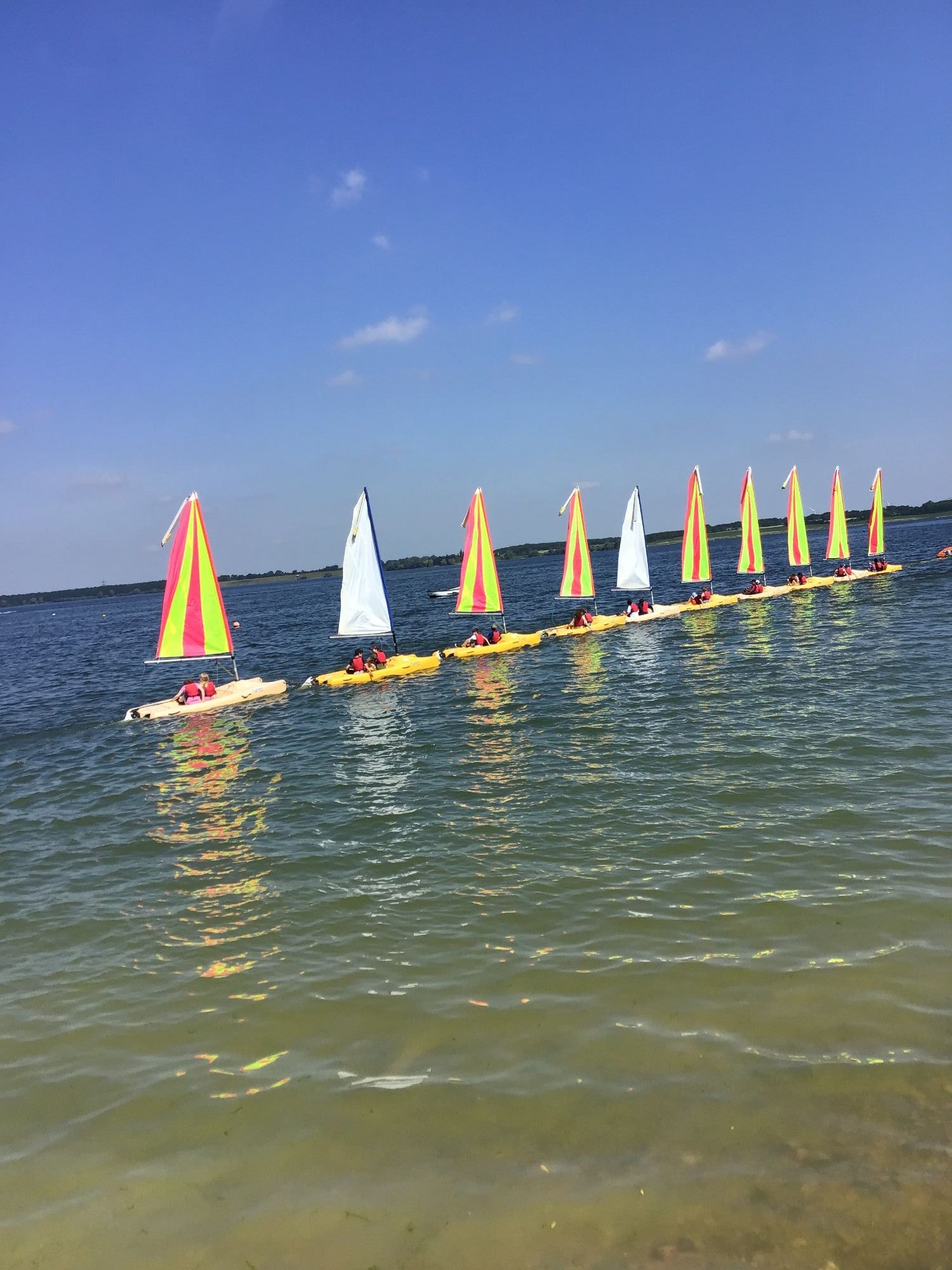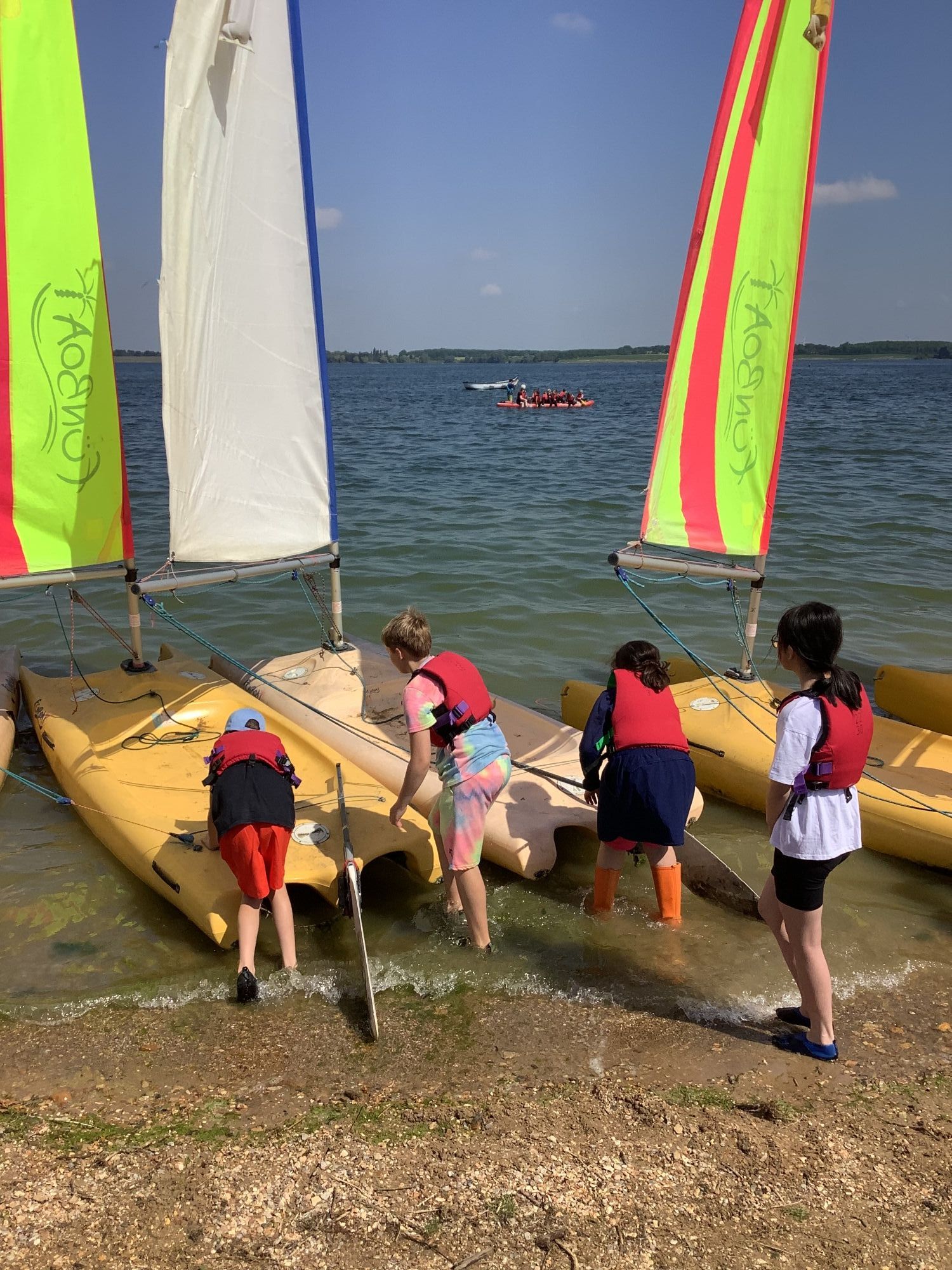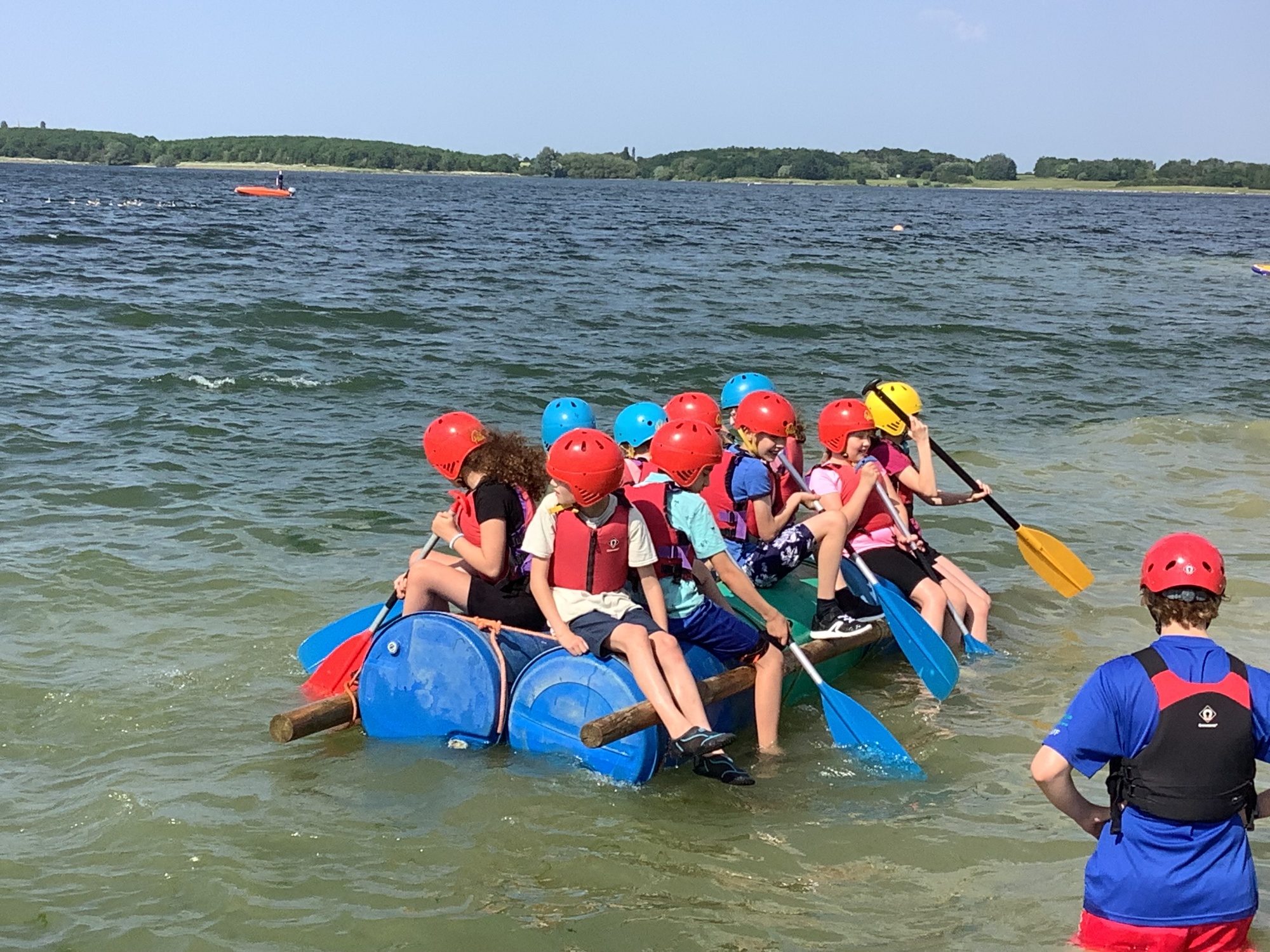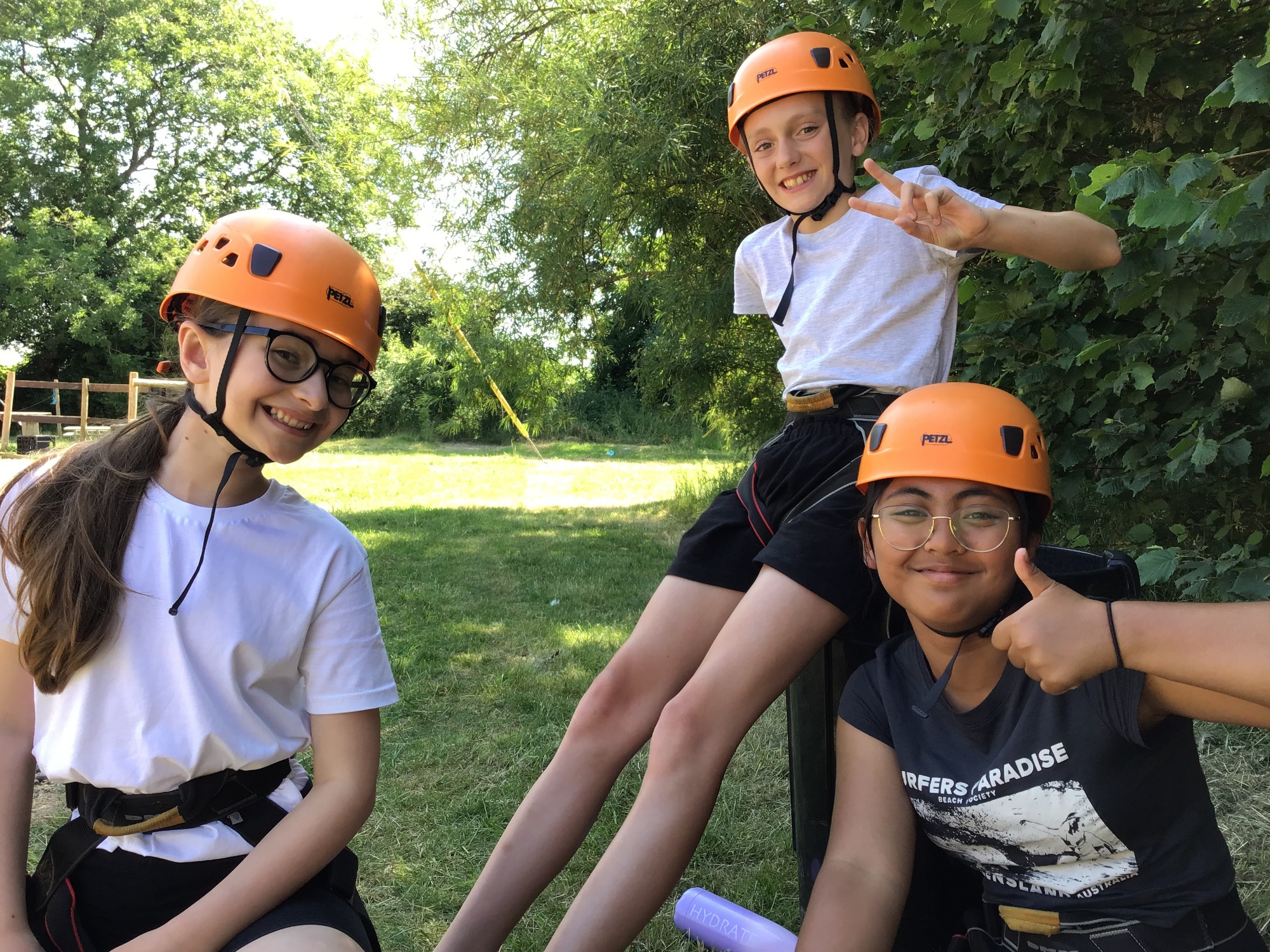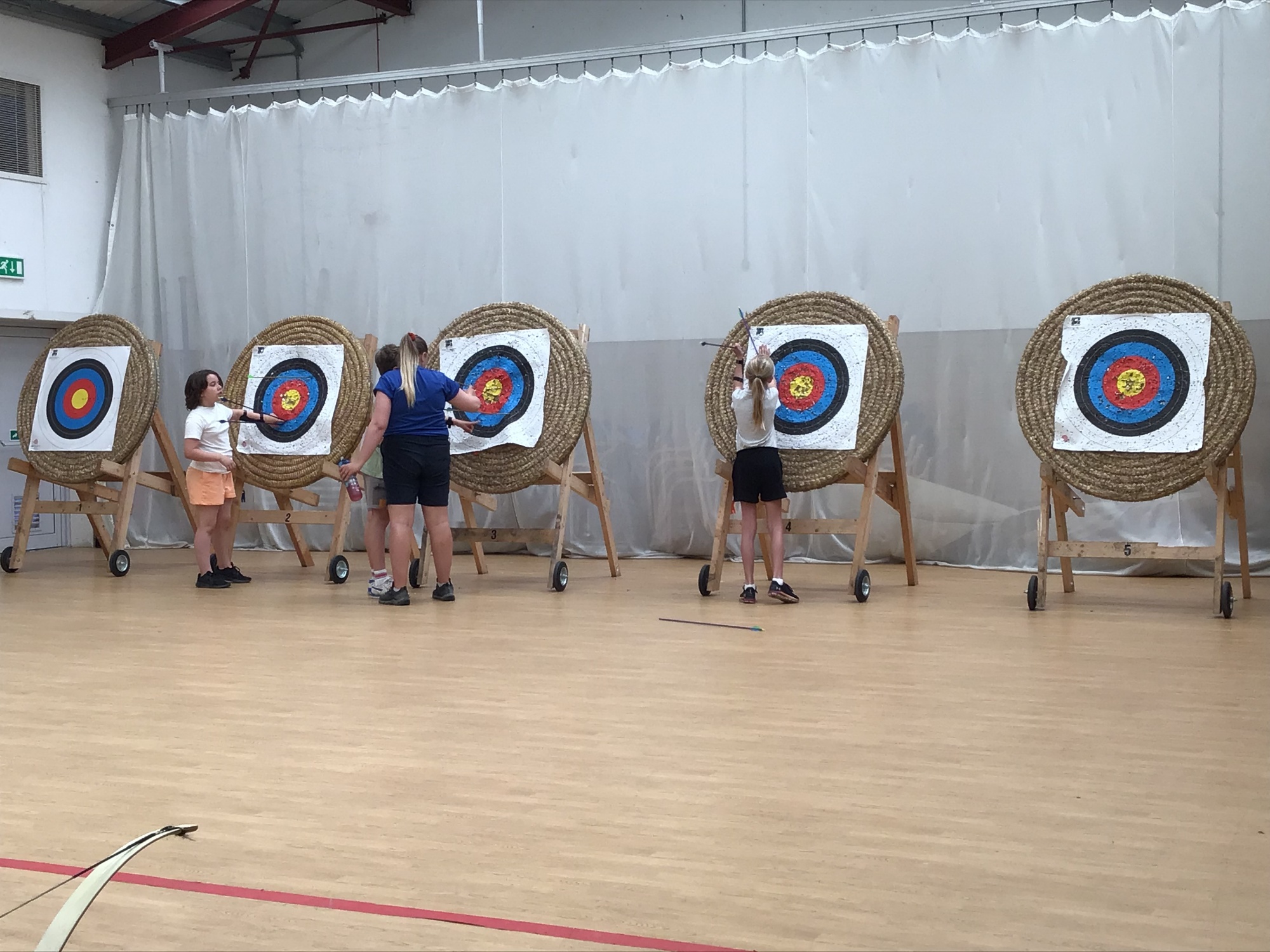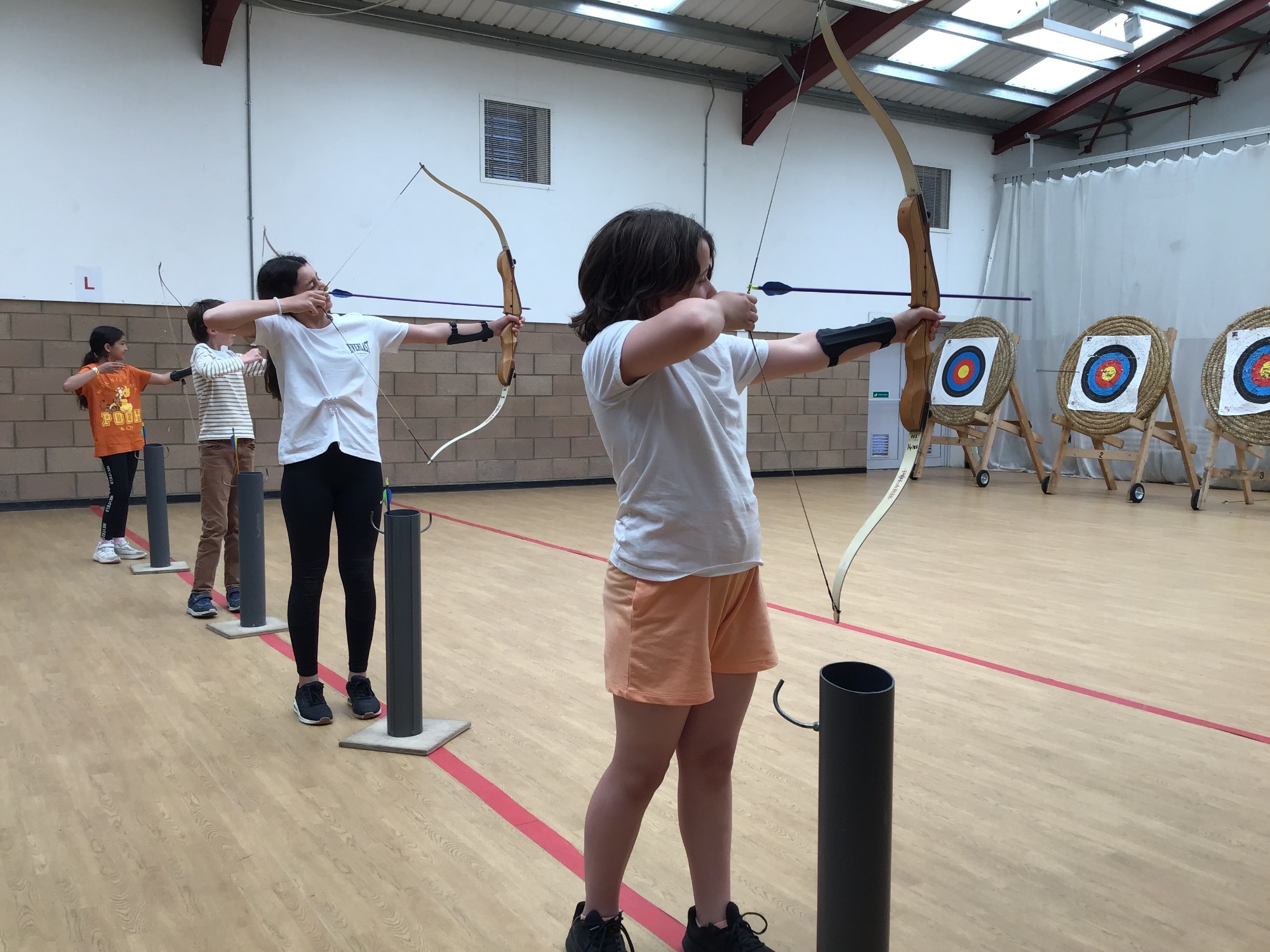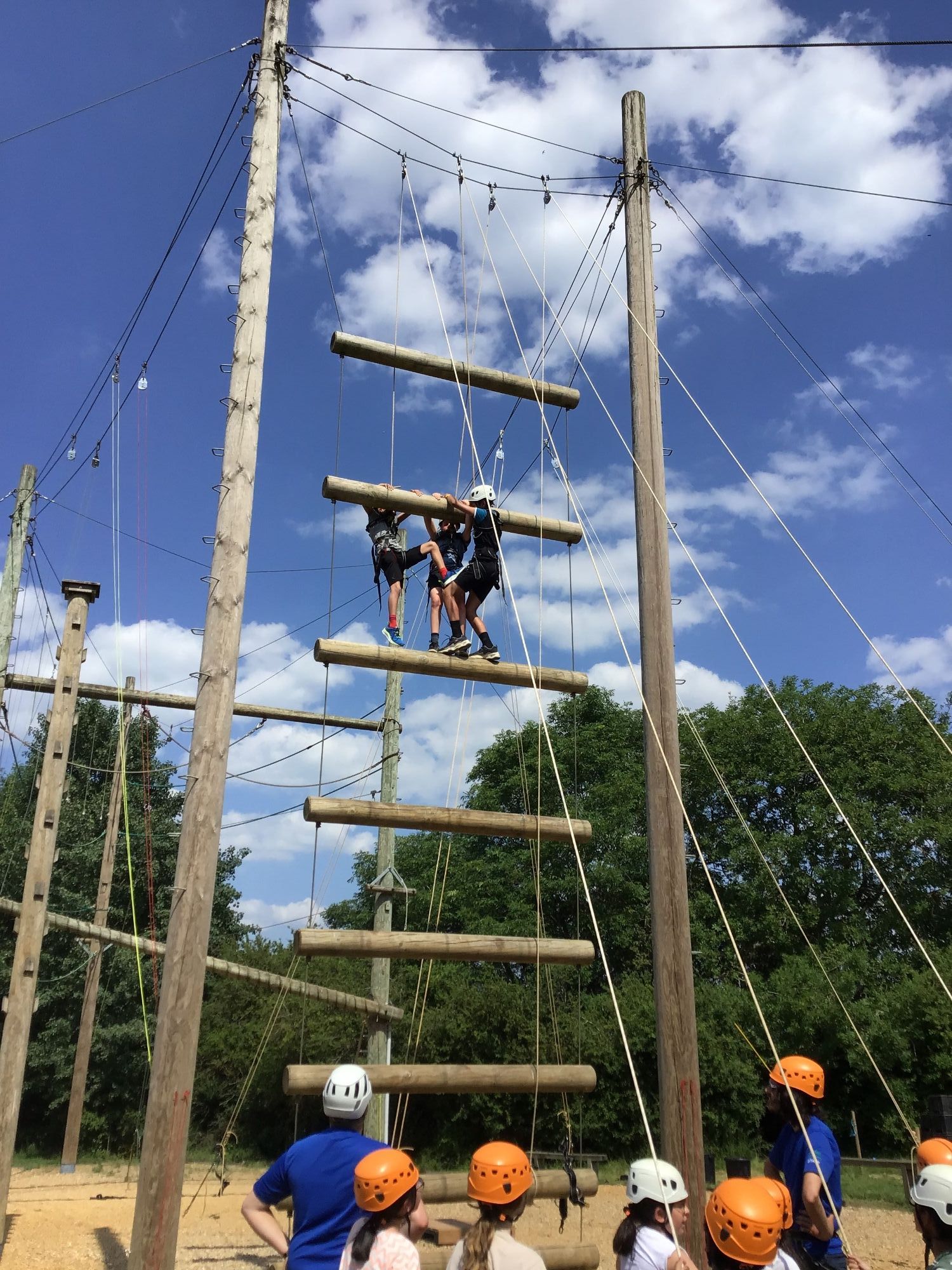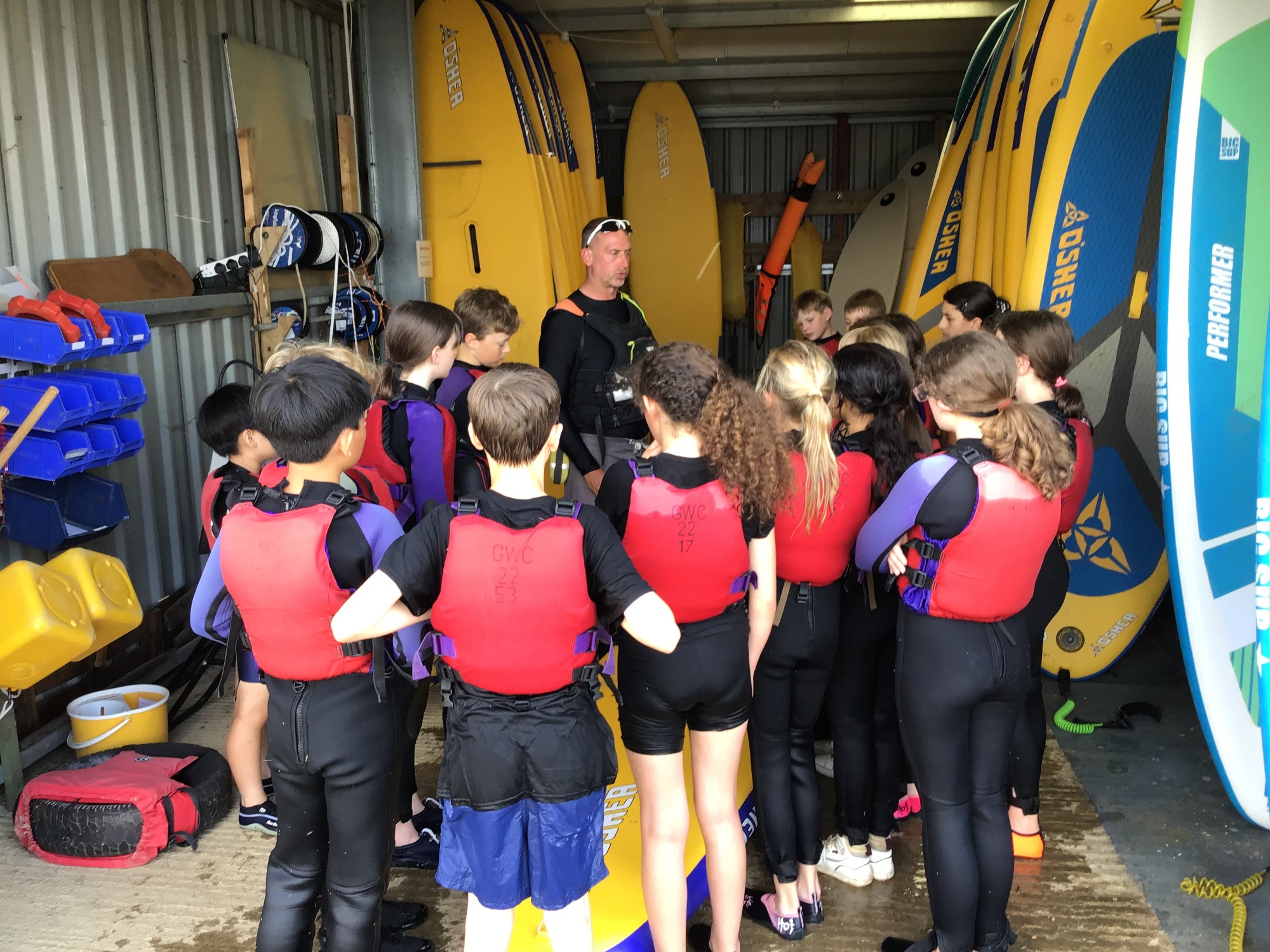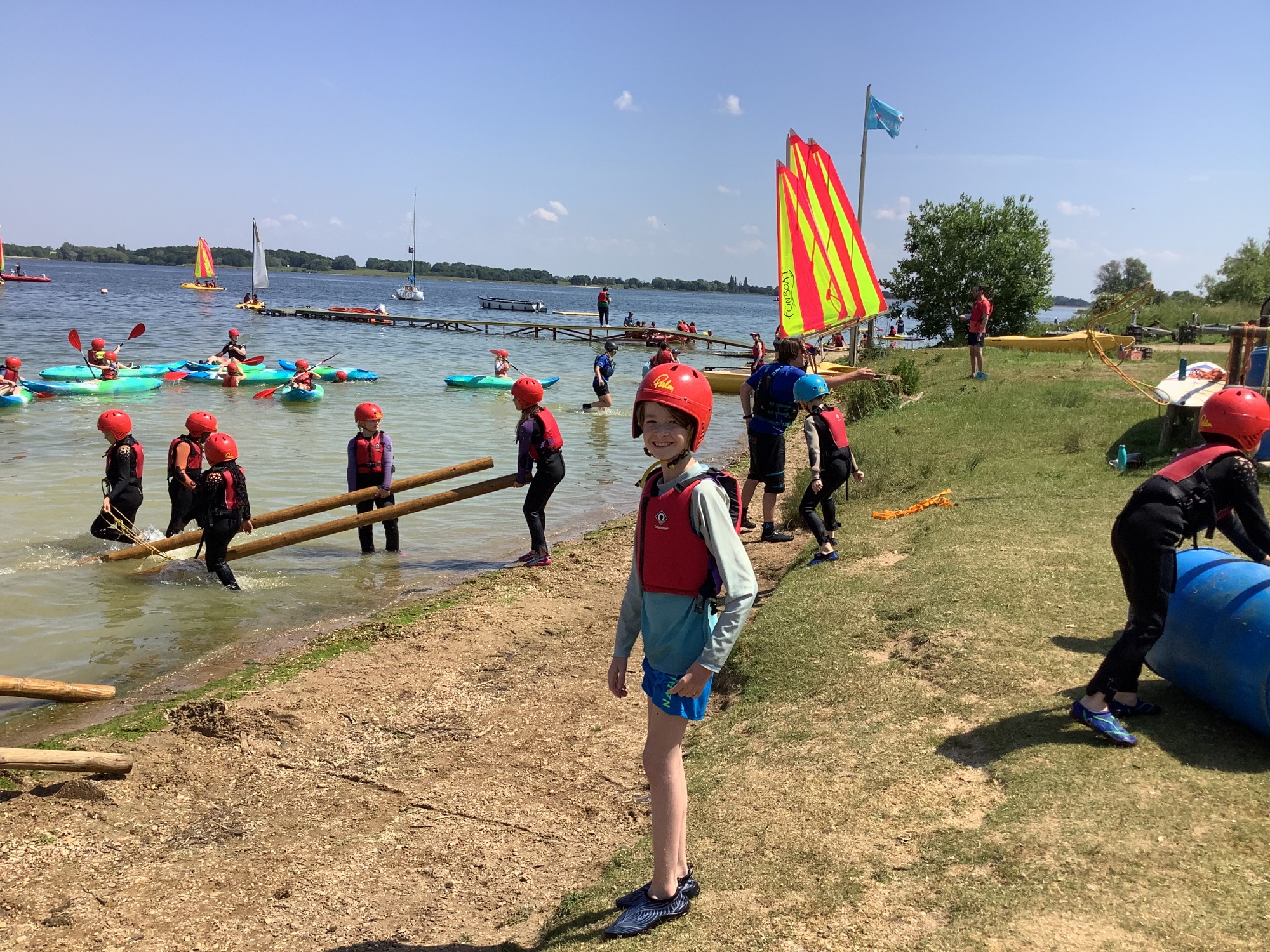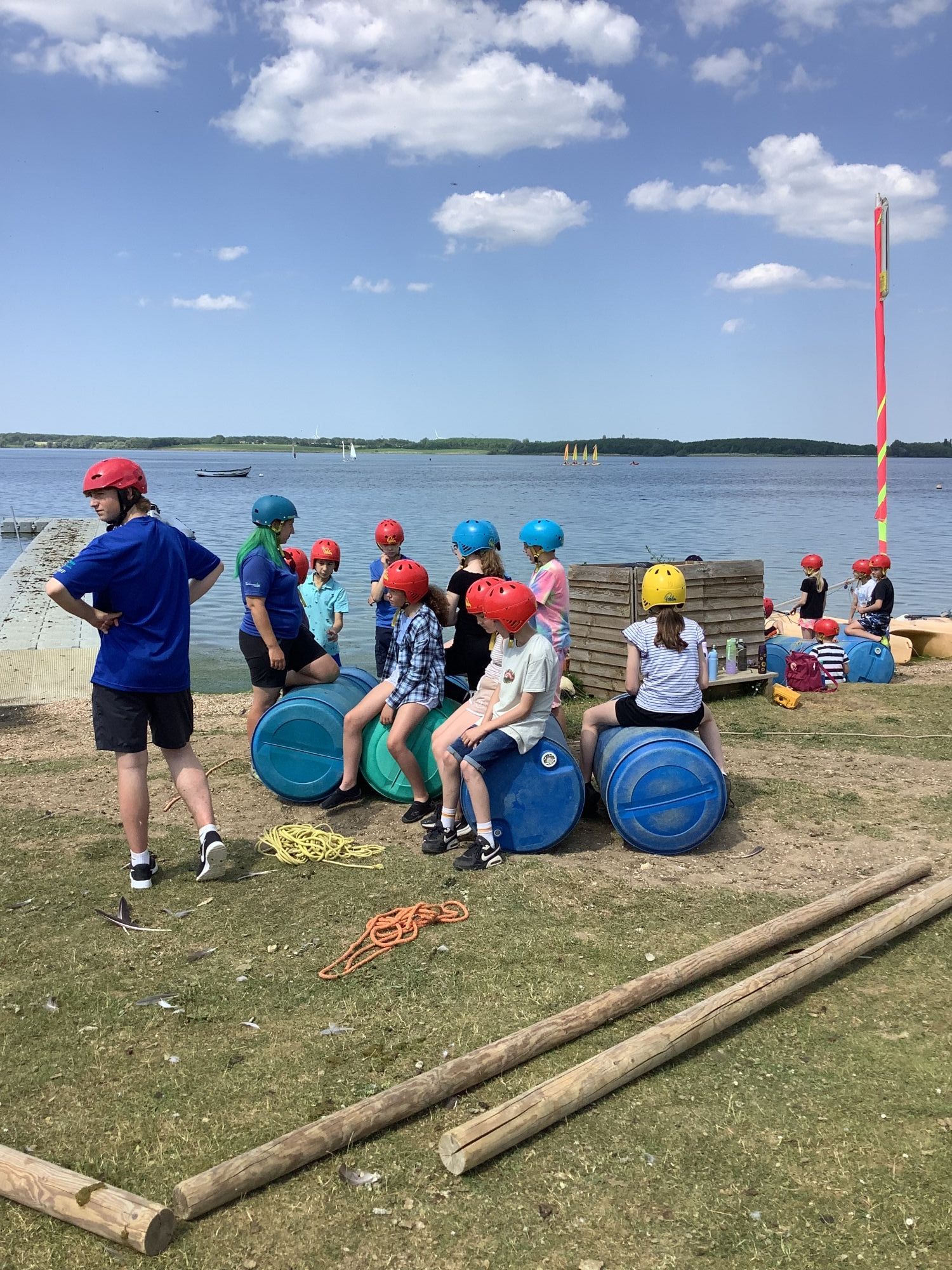 Yoga
Year 6.2 have been learning yoga in PE this half term. It links beautifully with our current topic as the yogic tradition, with its focus on the inner self, has been adopted by Buddhism. The common essence of both yoga and Buddhism is the attainment of 'enlightenment' through discipline. We learned that Buddhism refers to this 'enlightenment' as Nirvana. We've enjoyed learning about mindfulness, meditation practices and breathing while focusing on our strength in our cores and trying hard to keep our balance in certain poses!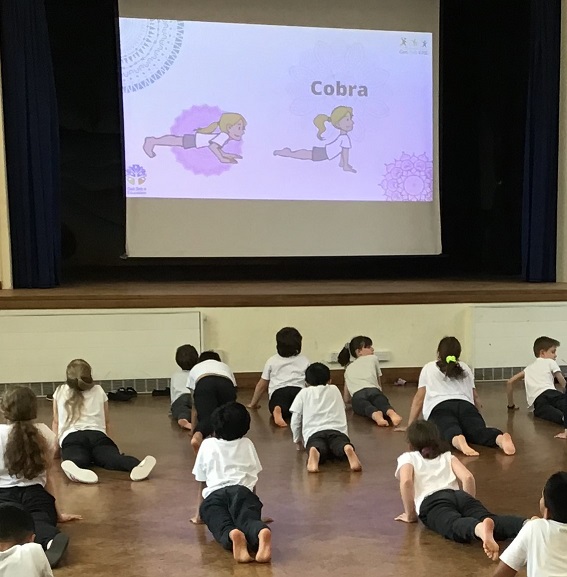 In PE, Year 6.1 pupils have been learning about mindfulness and body awareness. We chose this new unit so that we could reflect upon some practices of Buddhism – our topic this half term. We have learned yoga poses and techniques that have helped us to connect our mind and body, as well as improving wellbeing by building strength, flexibility and balance.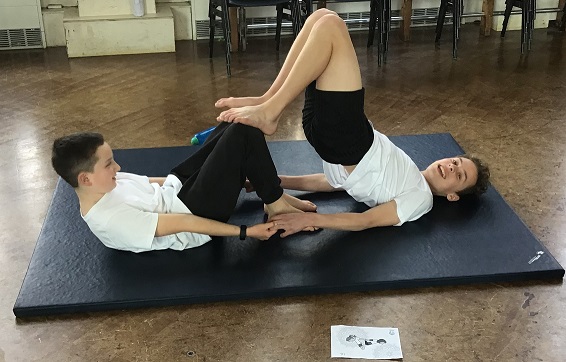 January 2023 - PE – Dance
Our first dance lesson this half term has been to copy and repeat a set dance phrase showing confidence in our movements. Year 6 worked in teams to then develop their dances by using changes in level, direction and formation effectively and helping each other to practice and remember the moves. Well done to those who confidently performed their routines in the first session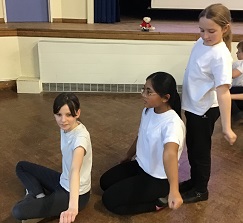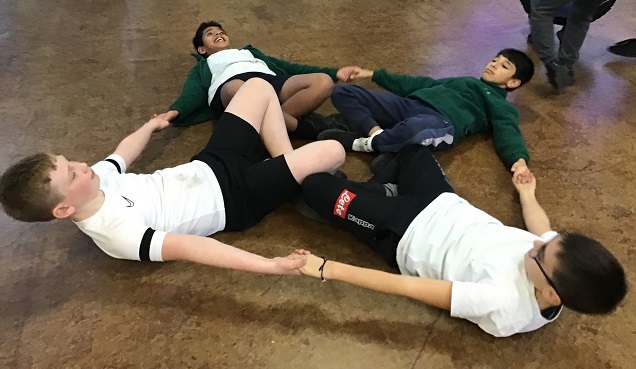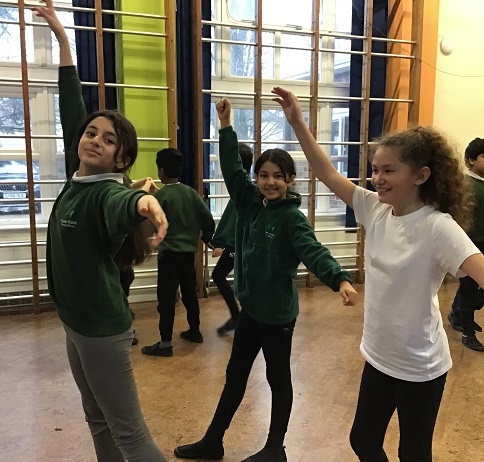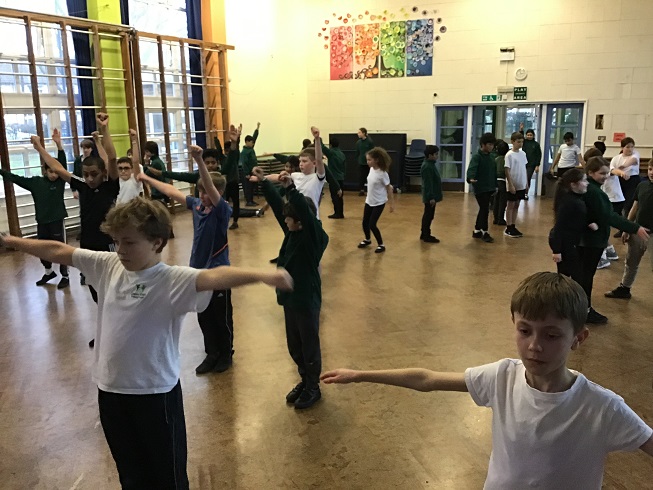 Athletics
In our new PE unit, we've been looking at challenges for distance and time that involve using different styles and combinations of running, jumping and throwing. So far we've had 3 lessons working collaboratively with a partner to set a steady pace over long distances, have begun to develop our own and others sprinting technique and have tried to control the power that we have when performing the technique for triple jump. As in all athletic activities, pupils have been thinking about how to achieve their greatest possible speed or distance and learn how to persevere to achieve their personal best. They have also been given opportunities to lead when observing and providing feedback to others.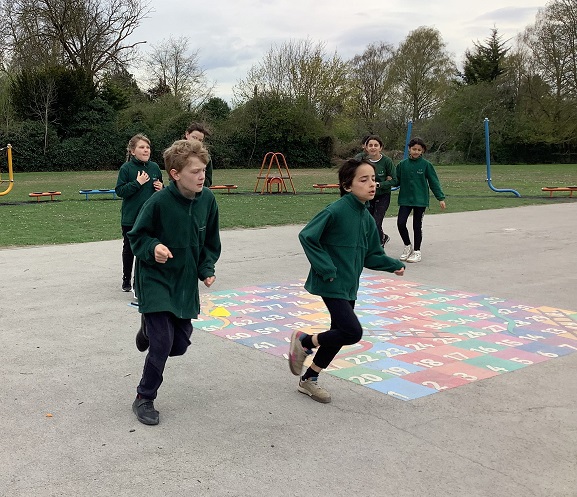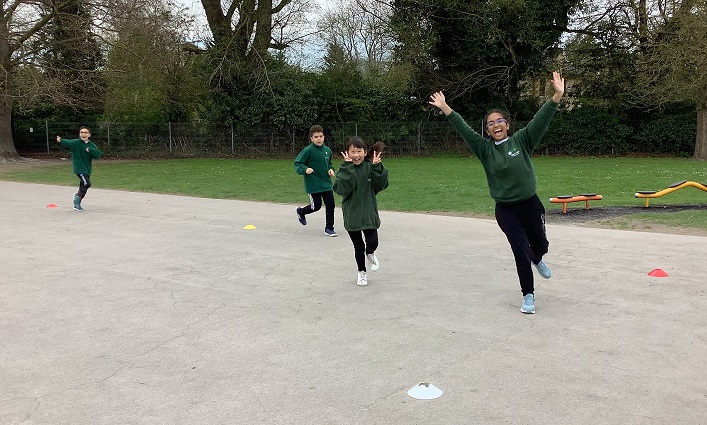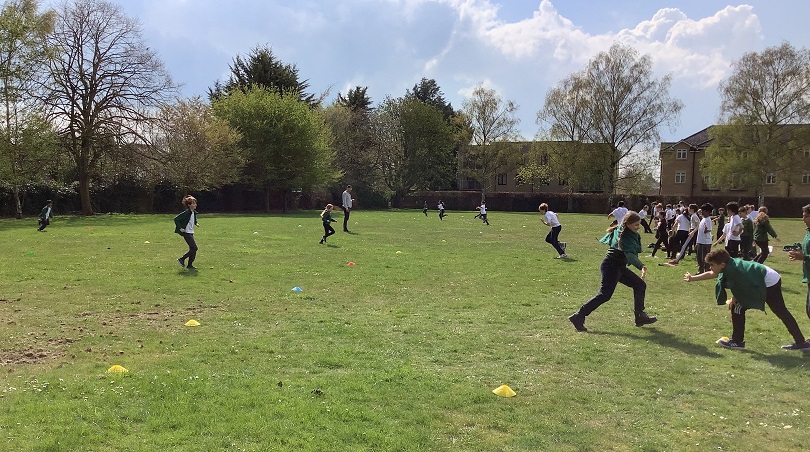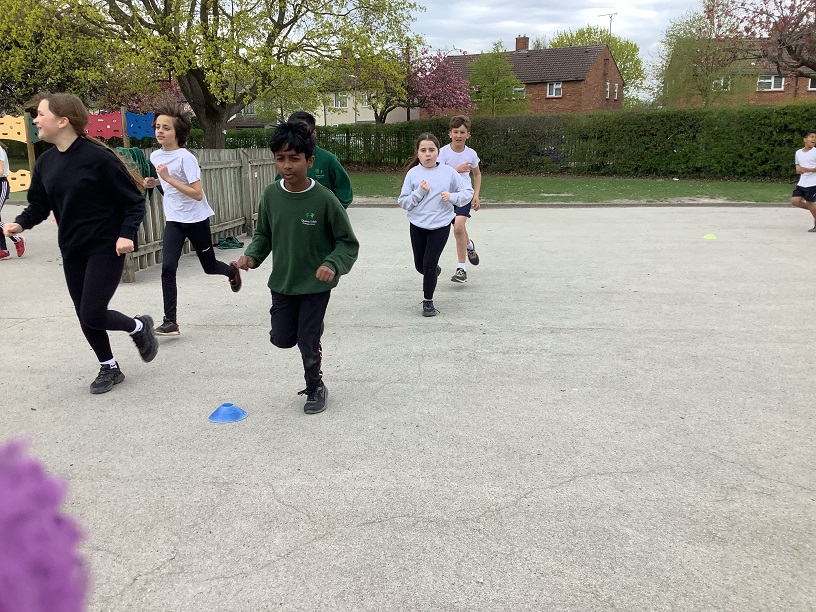 November 2022 - Cambridge University Fencing Club Visit
Later Years were treated to a visit from 3 members of the Cambridge University Fencing Club. After showing us their safety gear and outfits, they gave an excellent demonstration of their sport using 3 different foils and even answered questions from curious minds in Year 5 & 6. This related so well to our previous learning about Ibtihaj Muhammad at the start of the year when the entire school read 'The Proudest Blue'. Thank you to the students who visited and thanks to Miss McIlveen for organising!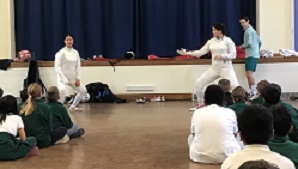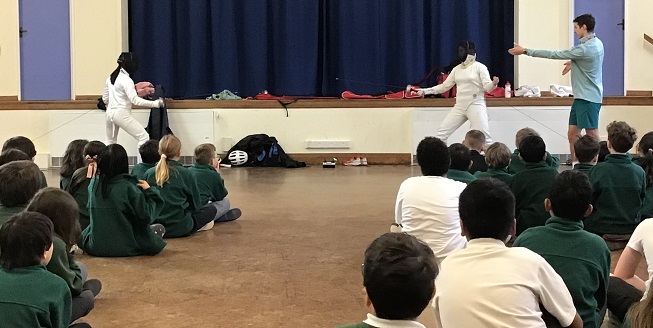 October 2022 - PE - Tag Rugby
Year 6 have enjoying learning how to play Tag Rugby this half term, with them playing a number of games to show their learning of the rules and techniques of the sport. There were some outstanding 'challenge yourself' behaviours being shown and wonderful teamwork across the year group. Well done to everyone!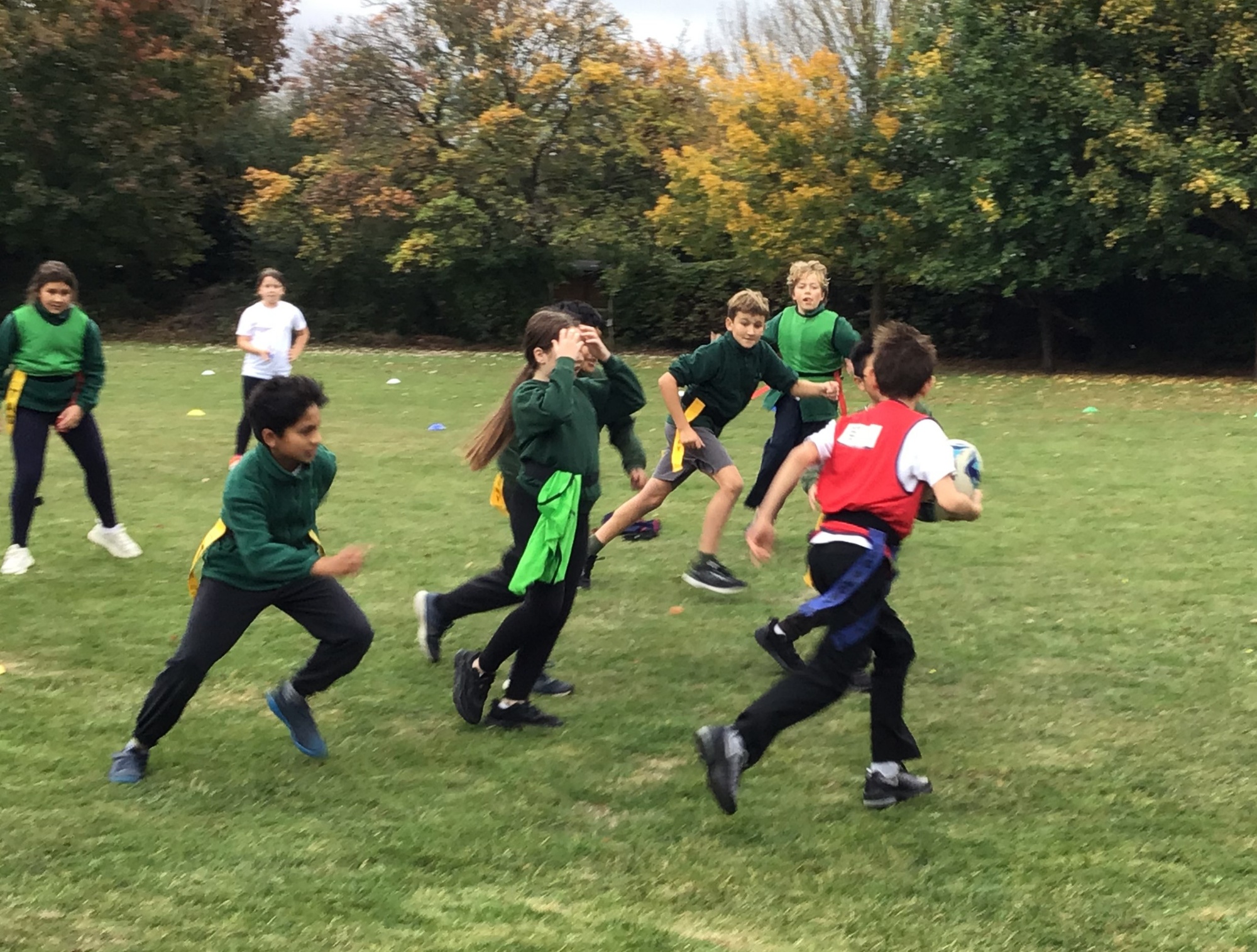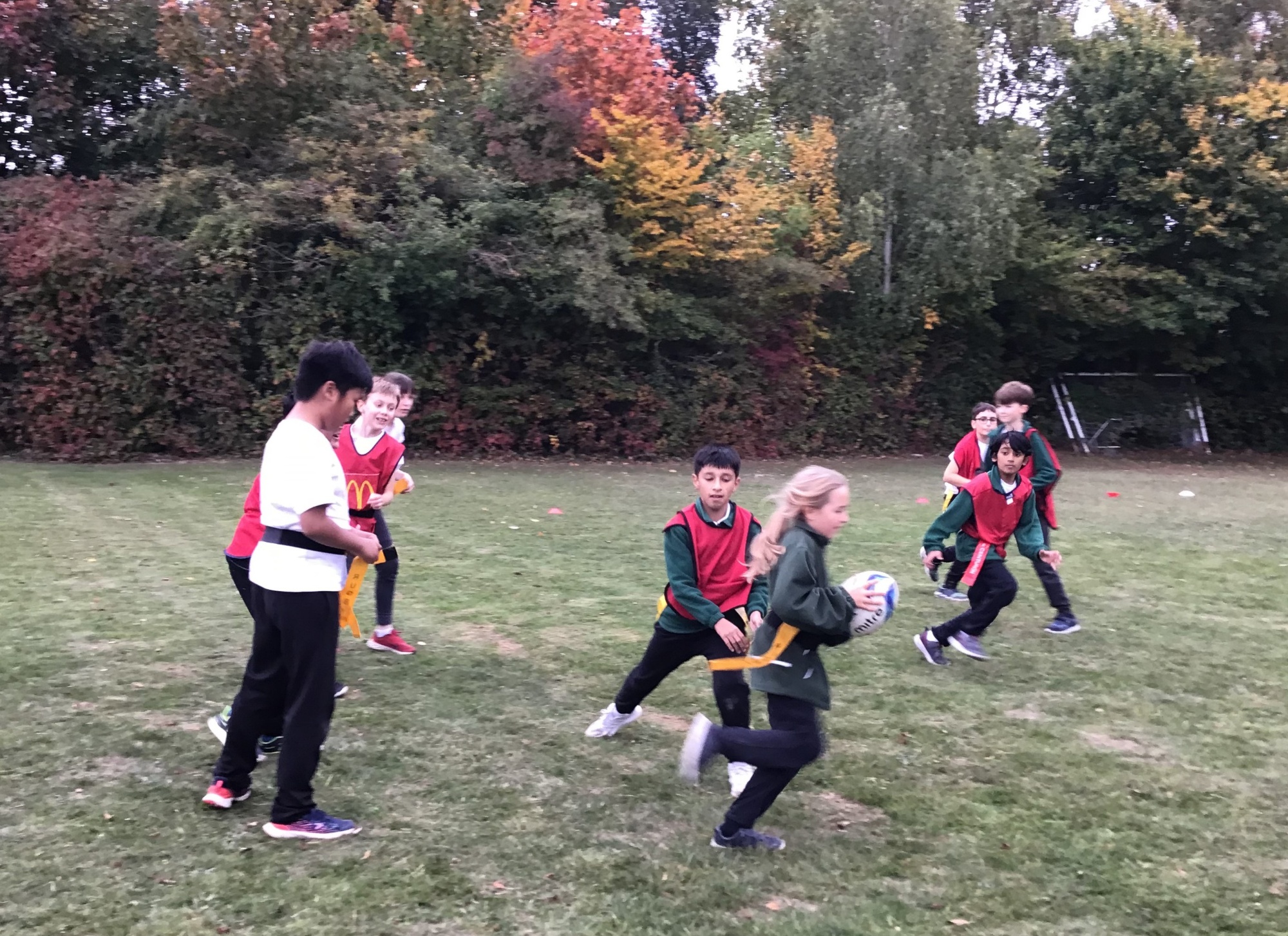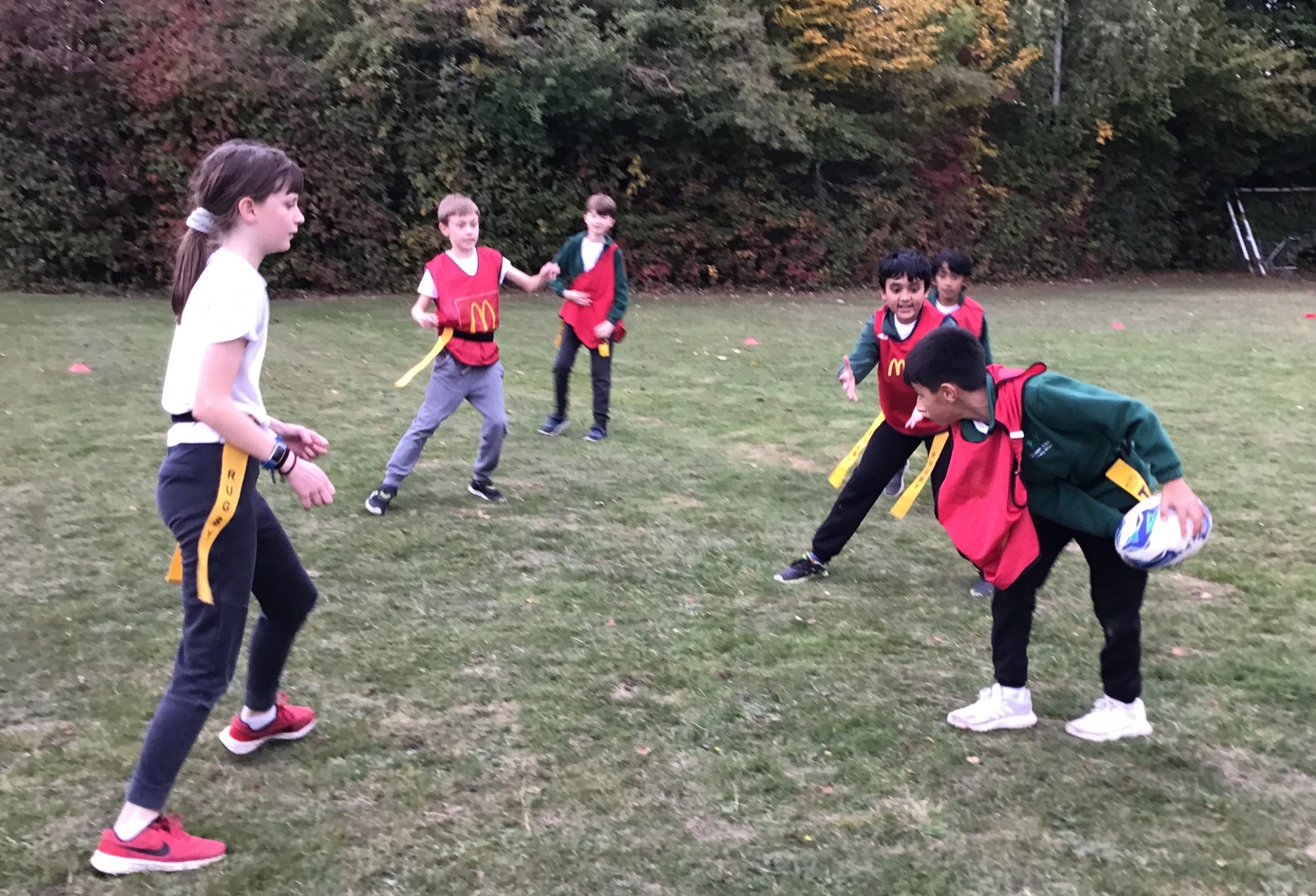 October 2022 - Tag Rugby Competition